Showing 7 posts tagged pink
To make up for the long intervals between posts, I'm giving away (2) Silver tickets to Disclosure in Manila on July 24th. Details after the cut. 
So here goes another chilly, clammy rainy evening with the breeze wafting through the thin mesh window, one of those nights that somehow manage to simultaneously bring forth a slew of thoughts and reflections and strip you of the eloquence to express them elegantly. For someone who writes for a living, these nights are both intimidating and freeing.
Intimidating, because how you string your carefully thought-out words together is how you get things done. An idea gets shaped in your head, and you wrap the right words around it so you could turn its intangibility into something others can grasp. Without the ability to communicate that, your idea is just that: a blob inside your mind.
Freeing, because when your brain is a constant, blurry flurry of ideas, dreams, plans and expectations, the barely audible sound of the drizzle outside causes you to space out in a good way and just breathe and let everything float on by. Your mind is cleared, not unlike when the rain cleanses the air.
With temperatures at an all-time high this week, it's lovely to hear the soft peal of thunder over the hum and buzz of the air conditioning tonight, isn't it? While it's still officially summer, I thought tonight's rainy reprieve might be a cool (pun unintended) time to post something other than the bikinis and maxi dresses that the newsfeeds are currently rife with.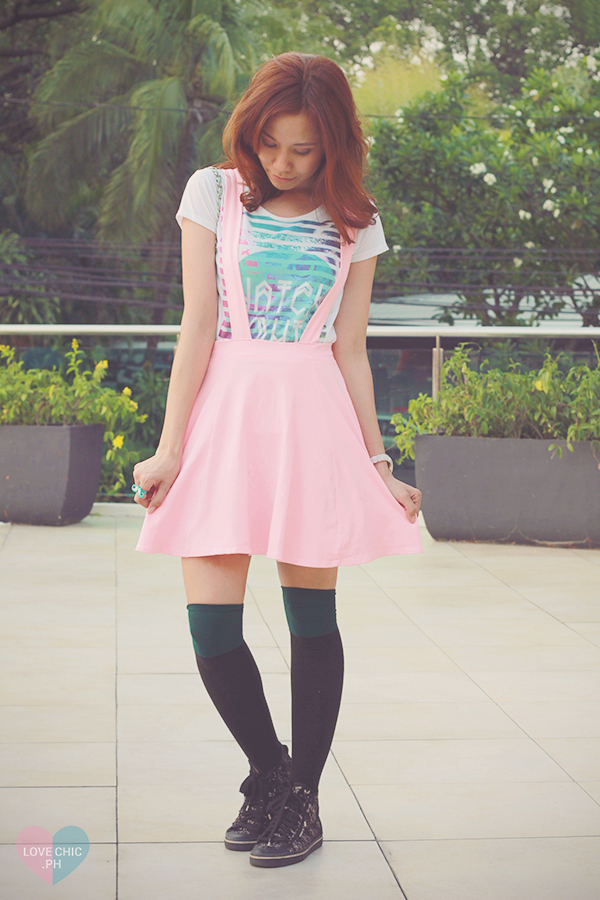 Doing a different kind of matchy for Father's Day! I waited for my dad to get dressed and then patterned my outfit to his.
Yes, my penchant for themed outfits stems from childhood. On special occasions, or just whenever we feel like being corny, my family would go out dressed in matching colors or a motif of some sort. It's a good thing my dad has a lot of pink and light blue shirts. Haha.
Favorite colors aside, my dad and I have a lot of things in common. People say I got my quirky laughter and witty humor from him, which I always take as a huge compliment because my dad can really work up a crowd. I've never heard of a seminar he spoke at where people weren't held captive by his stories, spontaneous jokes and occasional bursts of song-and-dance. He's a quick study, able to do a little bit of everything and has a seemingly bottomless arsenal of general knowledge, and I hope I'm a little bit like that too.
One of the things my mom loves about my dad is how his eyes sparkle with intelligence. I agree; my mom was the one who mostly taught me English, Humanities and creativity while my dad was the one who taught me Maths, Sciences and analytical thinking. I remember him teaching me two-digit division when I was five! I hated it at the time, but now I wish I paid more attention. Haha. My books back then were filled with circled words: whenever we came across a term I wasn't familiar with, he would encircle them with a pencil and scribble its definition. It wasn't all left-brained for him though. He's a compelling storyteller, a darn good cook and a sweet nurse: I grew up practically living in a hospital due to weak lungs, and even though there were many things I wasn't allowed to eat or do (e.g. watching cartoons would make me laugh, and laughter would set off an asthma attack), I never felt like I had a deprived childhood, because Papa was always there singing for me, reading to me, carrying me, bringing me everywhere. Then until now, there's always something to be learned just hanging around him: you would drive by a city and he would tell you a building's history. You would listen to music and he would tell you trivia about the artists of that genre. You would eat at a restaurant and he would tell you how a particular dish is prepared depending on the region. Sometimes I would doubt the veracity of his stories or assume it to be one of his poker-faced jokes, but then I research about it and they turn out to be true. Long before National Geographic and Discovery Channel, we've had our own live version.
The one quality of my dad that I aspire most though is his remarkable resilience. Looking at him now, one probably wouldn't be able to guess what he's been through. Think of some telenovela plots you can remember and then mix them up: riches-to-rags childhood, growing up with an absentee father at the care of relatives in Iloilo while his mom worked as a labandera (laundrywoman) in Forbes Park, working as an ice candy vendor in the marketplaces of Caloocan and then as a construction worker in Merville among many other odd jobs while paying his way through school. His career is just as storied: he's held high positions in the banking, foreign service, business and power industries and has had more economic ups-and-downs than a Ferris wheel, but he plowed through and bounced back each time. He's been mistaken for a CPA, lawyer, professor, restaurateur, and an engineer of all sorts, because even if he is none of the above, he displays unparalleled excellence in any field he gets into. I may sound like I'm a gushing daddy's girl, but if you meet him, you'd know what I mean. He has his own version of "Bloom where you are planted" that I often share in my own talks: "Ang diyamante, kahit ihalo mo sa buhangin, kikinang at kikinang pag nasinagan ng araw." (A true gem, even when hidden in the sand, shines brightest under the sunlight.) He teaches us by words and example that though you can't always control your circumstances, you can always control your attitude and make the best of any situation.
Despite knowing all these, many times in the recent past I've found it easier to give in to emotions or laziness or self-doubt. When confronted with daunting situations, I would forget to stop and ask myself, "What would Papa do?" and go on to act however I felt like acting. But I take comfort in another thing my dad likes to tell me: "You can only be who you're not for so long. You won't be able to sustain it, and sooner or later you'll be forced by circumstance to go back to your core."
I'd like to think I've been on my way back to being who I've always been supposed to be. After all, I am his daughter, and he is my dad. ♥



Outfit details: Lee Cooper sleeveless button down, Betty flap shorts, Crocs strappy slip-ons, SM Accessories bag.
Hype this on Lookbook here, Chictopia here.
I'd love to hear your stories too, so go ahead and leave a comment below.
Happy Father's Day to all dads out there!
Chemistry floral harem playsuit, SM Accessories, Keds. Hype this on Lookbook here. There's nothing comfier than sneakers when you have to manage a bazaar booth without any staff or helpers! At the same time, this cute Chemistry playsuit keeps the outfit from being too casual or boring—I love how the floral top is garterized to hug the upper torso, striking a balance with the comfy loose fit of the harem pants.
"Red passion" Manic Panic hair color from Funky Streaks. Like Seph, I've always wanted to try pink hair! Until now, bright red is the farthest I've gone with hair color. There were a couple of steps we had to take before we could achieve the exact shade we wanted, and even then, the hair color would change a bit after a few shampoos. But it's worth it! Experimenting and getting different results is part of what makes DIY so fun.
Upon registration, participants are given colored markers to express their love for Etude House on this wall.
Top view. They really went big with the playhouse/fair concept.
Throw the velcro balls to win the beauty booty of your choice
Buds-ketball
Sweet treats from Tous Les Jours
Cotton candy!
Real-life ballerina music box
There was also this incredibly cute pink Beetle with the false eyelashes and lipstick which Shai wanted to drive home.
It wasn't just all fun and games though. There were also educational talks on beauty, fashion, and skin care.
There was a long line to get inside the beauty area, where princes and princesses (what they call Etude House customers) are treated to a free makeover and beauty crash course.
What we wore to today's general convocation of Commerce students in UST, where we gave a talk on "Creativity in Business."
On Seph: Cardigan with scarf, Topman. Pink shirt, Chemistry. Jeans, Bench. Pink socks, Dickies. Shoes, Adidas. Camera flashlight used as pendant, a gift from Crissey. Hype this on Lookbook.
On Shai: Pink dress with white hearts and floral jacket, Chemistry. Black tights, Topshop. Silver ring and bracelet, Me&U. Camera pendant and flower ring from Bangkok. Hype this on Lookbook.
This day was a blur—as gasgas as it is to say this, time really flies when you're having fun and fun we definitely had. This is only our second time to give a talk, the first one being for the ACLE of UP Diliman's Engineering students (yes, it's the same dress design on Shai, only in blue). So to be welcomed so warmly by the Thomasians, to be eagerly asked so many questions and be told how much we inspire students, gives us some seriously fuzzy feelings. As promised, snapshots below.
View of the slideshow from the upper rows at the back. The talk was held at the UST Medicine Auditorium.
Impromptu "class picture" of students who didn't leave right away, taken from the stage. Now we wish we could've posed with them instead. Heh.
Our little sister Janine Cham. She's one of the organizers, as the Public Relations Officer of UST Pre-Com Society. We're so proud!
With hosts Topi and Chloe and events planner/host/voice talent Guggles. It's our first time to meet them but we instantly clicked.
We want to post more photos, but different cameras were used and these are the only ones from ours. Whomever we missed, shout-out to you guys!
Thank you to everyone for having us, especially to those who made it possible. We really enjoy doing these things, sharing our stories, being stand-up comedians and impromptu dancers. So if you're in school and you'd like to have us for your edu-tainment, email us and we'd be glad to be there.